Ruth Linn - b: March 22, 1918 (Atlantic, Iowa)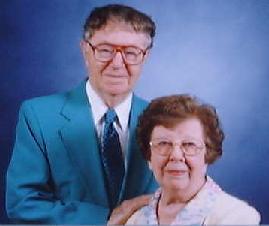 Hansens celebrate 50 years together
The Norman Transcript (Norman, OK), Sunday, June 13, 1999
Bob and Ruth Hansen will observe their 50th wedding anniversary on Saturday, June 19. The couple met while both were teaching at Creston, Iowa, high school. They were married a year later on June 19, 1949, in the United Methodist Church in Atlantic, Iowa, Ruth's hometown.

After graduating from the Atlantic High School, Ruth received a B.A. from Grinnell College and a M.A. from Northwestern University. She taught English and speech in several southwest Iowa towns during the 1940s.

Bob graduated from Estherville High School in Estherville, Iowa, in 1929. He worked with his father in the dry cleaning business until 1942 when he enlisted in military service. He served with the Army Air Force in the China-Burma-India theater. Following his discharge in 1946, he enrolled at the University of Iowa where he received degrees in science and education.

It was during his first teaching job in Creston that he met Ruth Linn. After they married, he continued teaching in Estherville, his hometown. Both loved to travel, and their summer vacations were spent camping coast to coast in Canada, visiting relatives in Europe and sightseeing in the Orient and Australia.

After his retirement from teaching in 1976, Bob moved to Norman and opened the Karmelkorn Shop in what was the new Sooner Fashion Mall. Ruth followed a year later, after the business was off to a good start. In 1980, they were joined by two more Iowans - Mary Louise Petznick (Ruth's cousin) and Ellen Mohr (their long-time friend). In 1998, the business was relocated in Redbud Plaza with the name Carmel Corner. In addition to her work, Ruth has been a member of PEO for 60 years and continues to be active in the organization. Bob has enjoyed woodworking, photography and ham radio, now replaced by e-mail. Both enjoy going to the shop each day to meet with friends and customers.

Members of the community are invited to help the couple celebrate by stopping by Carmel Corner on Saturday, June 19, or sending them a card.


On January 14, 2002, Bob Hansen turned 90 years old. As is done most years, a birthday celebration was held at Mom and Ellen's house on Quail Drive in Norman, OK. Additionally in honor of the occasion, a 'surprise' celebration was held on January 15, when Bob and Ruth were treated to dinner out, complete with a ride in a limousine. Above left is a picture of Mom at the dinner table on Bob's birthday. Above right is a picture of (L to R) Mom, Bob, Ruth and Ellen.


Left is a photo of (L to R) Mom, Ruth and Bob at the dinner table at Danny's Steak House in Norman, OK. Right is a picture of Ruth and Bob leaving the restaurant. Oh, to be so dapper at 90 years old!! My hat is off to you Sir.