A Robinson Family Coat of Arms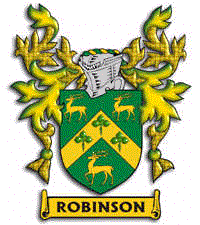 Robinson families in the USA as of the 1990 Census
Sydnor Robinson - b: August 11, 1828/1829 (Fauquier County, Virginia) - d: December 18, 1885 (Madison County, Iowa)


Here are pictures of my 2nd great-grandparents Sydnor and Sarah Pletcher Robinson, courtesy of my cousin Max Waldrop, who is also the 2nd great-grandson of Sydnor and Sarah.

Sydnor was certified by the state of Ohio as a teacher. Left is a copy of his teaching certificate listing his certification in: Orthography, Reading, Writing, Arithmetic, English Grammar and Geography, dated February 27th, 1858.

Civil War muster form for Sydnor Robinson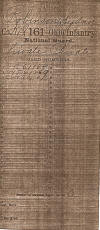 Civil War National Guard registration card for Sydnor Robinson.

Sydnor Robinson served 100 days in Company I, 161st Ohio Volunteers in the Civil War in 1864. Left is a copy of his discharge.

Right is information on his Civil War service record.


Left is the headstone for Sydnor Robinson. He is buried in Moon Cemetery in Macksburg, Iowa. A GAR marker is also on the grave.



Emma Janette Robinson - b: March 7, 1858 (Deavertown, Morgan County, Ohio) - d: April 12, 1922 (Union County, Iowa)
Right is a picture of my paternal great-grandmother, Emma Janette Robinson, daughter of Sydnor Robinson and one of 13 children. In October of 1877, she married Clark McKee.

Left is the obituary of Emma Janette Robinson.