My Granddaughter - Ava Renee Cawood
b: February 28, 2005 (Lexington, Kentucky)

Above is a picture of Ava and Dr. Larry Butler, who performed the delivery.

After the delivery Dr. Butler described her as "fearfully and wonderfully made".....I agree completely.
P

salm 139:14 reads;

"I will praise you, for I am fearfully and wonderfully made; marvelous are your works, and my soul knows very well.

"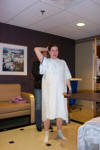 Left are Jamie and Chris, taken on 2-27-2005. The night Jamie was admitted to the hospital. On the right, Jan helps Jamie on with her hospital gown.


Ava was brought into the nursery by Daddy (Chris) who got our attention while we were in the waiting room. Left, Ava is checked over by one of the physicians, then measured and weighed

Ava's vital statistics.


Chris puts on Ava's first diaper.


Ava and a VERY proud Grandpa.


Ava and Grandma Jan.


Left is a picture of a bright-eyed Ava is saying "hello world"! Right is a picture of Ava in a pretty little pink outfit.

Left is a photo of Ava in her hat.