Anna Ida Waltersdorf - b: August 4, 1862 (White Russia or Bromberg, Germany) - d: December 8, 1945 (Creston, Iowa)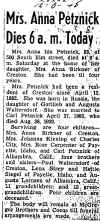 Left is the obituary for my paternal great-grandmother, Anna Ida Waltersdorf Petznick. She was the wife of Charles Petznick. Right is the notice of her funeral. Both articles appeared in the Creston News Advertiser (Creston, Iowa) in 1945.

This is the 1930 Census record for Multnomah County, Portland Township, Oregon for Anna Waltersdorf Petznick. Below her record is the record for Rose Petznick Carpenter and her family.

Headstone for Anna Ida Waltersdorf Petznick in Graceland Cemetery, Creston, Union County, Iowa.