Our Presidential Family Connection

Harrison Family Coat of Arms
William Henry Harrison - b: February 9, 1773, Berkley, Charles City, Virginia - d: April 4, 1841, Washington, District of Columbia

Left is a photo of President William Henry Harrison. He was married to Anna Tuthill Symmes, the great-granddaughter of Mary Hallock. Mary was the granddaughter of William Peter Hallock, my 7th great-grandfather.
Benjamin Harrison - b: August 20, 1833, North Bend, Hamilton County, Ohio - d: March 13, 1901, Indianapolis, Marion County, Indiana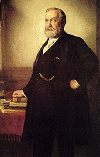 Left is a photo of President Benjamin Harrison, grandson of William Henry Harrison and Anna Tuthill Symmes.