Surnames related to the Pine Family

Right is a map of southeast Sullivan County, New York showing a Hallock Road and a Van Tuyl Road close by. These two families have been in this area of New York for many generations.
Drake - A related surname? Maybe. A family mystery? Yes!
For many years, I have been in possession of six very old letters that have been handed down on the Pine side of the family. Their dates ranging from 1791 to 1827. Most of these documents center around a gentleman by the name of Zephaniah Drake. To date, I have been unable to establish a blood link to the Drake name. One possibility may be through the VanTuyl name. Archibald Pine (my great-grandfather) was married to Annie V. Hallock. Her father was Daniel VanTuyl Hallock. Daniel's mother's name was Julia Van Tuyl. It is known that a Phoebe Drake was married to Alfred Van Tuyl. Perhaps that's where the connection come in? February 7, 2002 - As it turns out, Phoebe Drake is my 3rd great-grandaunt, so at least I have a small connection to the Drake family.
August 25, 2000 - Recently, I was forwarded photographs of the Drake family plot taken at the Lower Mongaup Cemetery, Town of Lumberland, New York, by Nancy Coleman-Bello. Included among these is the headstone of Zephaniah Drake. The photographs have been added to this page. To see them, click here.


This first document was written in 1793. It appears to be a warning by a gentleman by the name of Nath Queen to someone regarding the cutting of timber on his land. It is attested by Zephaniah Drake and Peter Brink. The addressee name on the front side of the document is to Peter Brink. Perhaps this was his copy?


This document was written in February 1827 by Zephaniah Drake and another of the Drake family, whose name I cannot read. The letter is in regards to the election of captain in the town (or township) of Foristburg. The addressee side has writing on it that I have been unable to decipher, other than Zephaniah Drake's name and that of Orange County.


This document appears to be a promissory note written in 1798. Zephaniah Drake is borrowing six pounds, eight shillings from someone by the name of (best guess), Mastiny Guykendall.


This note is from a John Slout to a Solomon Decker, written in 1792, requesting wood for the winter. Note: This document has no reference to the Drake name.


This appears to be a quit claim property deed for land from a Caleb Smith by Zephaniah Drake, dated in 1798.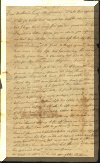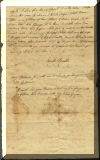 This letter was written in 1791 by a Sarah Drake to her brother-in-law Zephaniah Drake.

Part of the Drake Section of the Lower Mongaup Cemetery, Town of Lumberland, New York


Two pictures of Zephaniah Drake's Headstone inscribed as follows: Memory of Zephaniah Drake Who Died Oct. 16, 1823 In The 88th Year Of His Life
Pictured in this photo are several headstones. Left to Right: Elizabeth Jones wife of Joseph Drake Joseph Drake Died June 30, 1847 In The 86th Year Of His Life unreadable Nathan J. Drake Died ____19, 1865 Ae 69 Yrs 5 Mos ___ Days

This headstone reads as follows: In Memory of Nathan Drake Who Died Jan 15, 1857 Age 75 Yrs 6 Mo 1 Day